 Leap Talks
Interacting with Business Professionals from varied disciples and exceptional expertise,
sharing experiences and opinions on different aspects of business.
"Between growth and efficiency, I would lean more towards growth which is the tougher one and more desirable in most situations.

Efficiency is often thought of as a "must have" feature and comes (mistakenly) as a process of reducing the denominator (read as costs) to get a better result. The mindset of cost reduction inherently, I think has a pitfall of compromising growth. Growth needs investment of time, effort and money in the desired direction. While there is a limit to how efficient one can become, growth has no such limitations.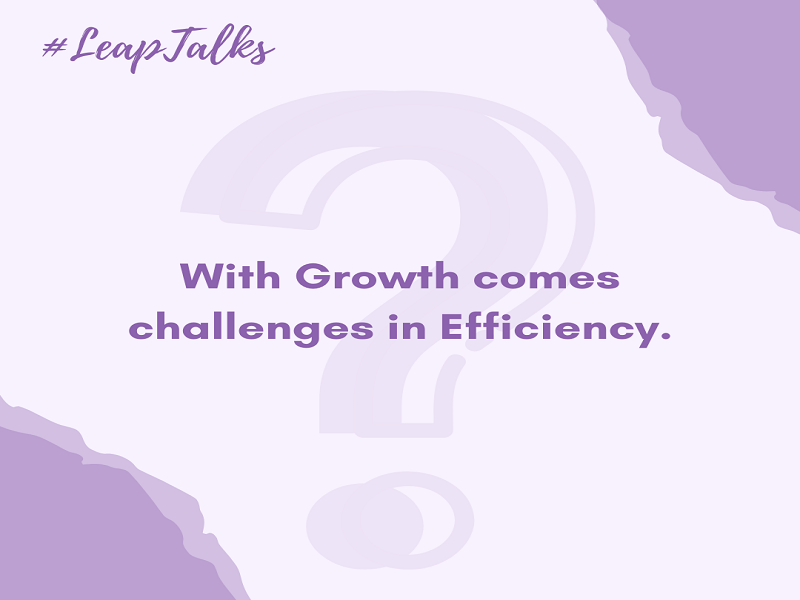 In actual fact, an ongoing continuous improvement agenda benefits growth and often outweighs the efficiency.

I agree with the statement "With growth comes inefficiency" . When we chase growth, change happens. In change, inefficiency creeps in. Efficiency, I think, is often confused for effectiveness. Peter Drucker reminded us by saying - effectiveness takes precedence as there is no point in doing something efficiently that which should not be done at all !!

What we don't need to do, can help us free up time and focus more on the important "to-do" which is growth. In this Pandemic situation and digital age, disruptions are more likely!! Do you want to 1) be disruptive and grow? or 2) be disrupted??

My vote is for growth and then look at getting efficient. Give importance to growth. Then bring process discipline to align with efficiency, then again chase growth. It is a virtuous cycle. "
"Small businesses could be like speed boats - agile, able to adapt and change direction quickly. As businesses grow, they could morph into oil tankers. Carrying huge loads but slow and needing a long while to change.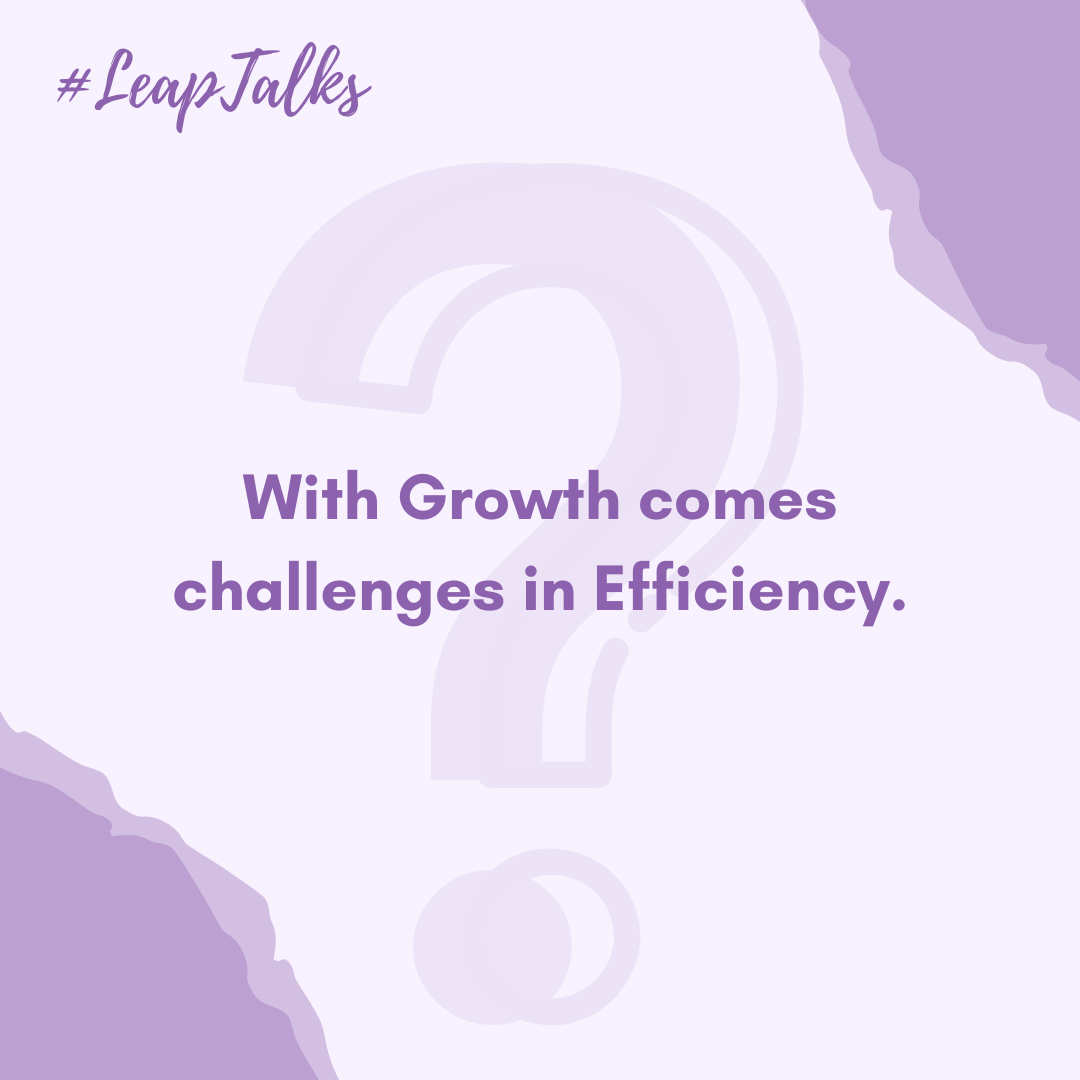 Boards and management, almost always, set growth as their primary objective thinking 'grow or die'. However, when growth comes without complementary growth in managerial capacity, processes, quality and financial controls, this could lead to substantial dilution of customer value propositions.

A business needs to be both agile and efficient. Effective front-end controls across the 'enquiry to cash' and 'procure to pay' processes go a long way towards ensuring both agility and efficiency.

Key though for me, from the experience of having been part of a business which went from $10m in annual revenue to $1bn i.e., 100x growth in 10 years, is DISCIPLINE.

Jim Collins, in his book "Good to Great", hits the nail on the head and I quote.

"All companies have a culture, some companies have discipline, but few companies have a culture of discipline. When you have disciplined people, you don't need hierarchy. When you have disciplined thought you don't need excessive controls. When you combine a culture of discipline with an ethic of entrepreneurship, you get the magical alchemy of great performance" "
"COVID has been a never-before pandemic that has definitely challenged the global economy and tested the endurance of numerous businesses across the world. A company is built on the pillars of People, Process and Technology. With retail industry seeing a situation of zero cash flows, many businesses - direct & dependent, saw the major need to be adaptable and nimble to the COVID situation.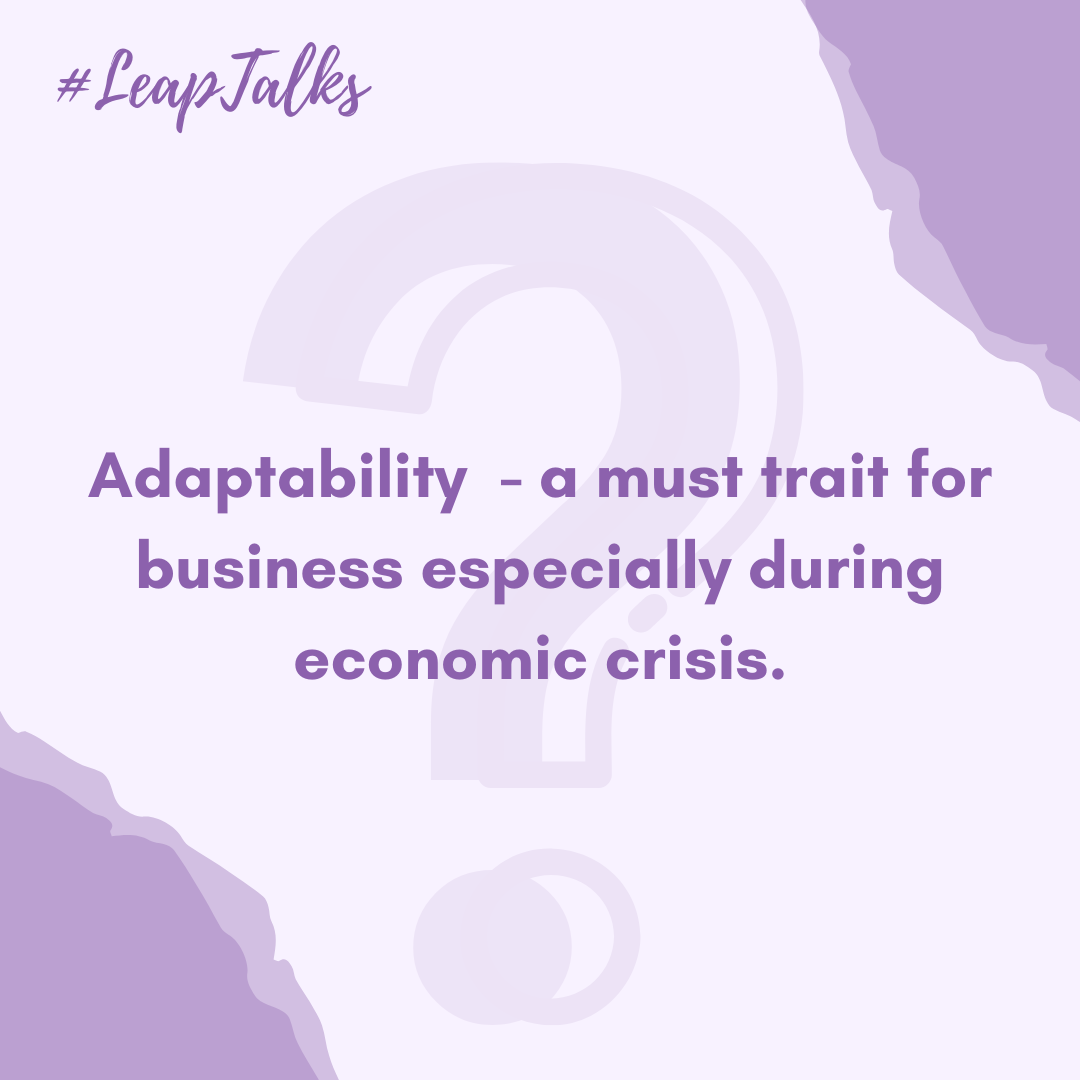 From People aspect, managements were forced to make the tough calls and plan for layoffs, pay-cuts or restructuring. Processes were reimagined in order to derive higher efficiencies and iron out chinks if any. And Technology adoption was at its accelerated best. It cannot be said enough, COVID has been the biggest digital accelerator ever. Who would have imagined so many businesses functioning at this extent with zero travel and remote working? Greatest example of adaptability imho.

While successful and growing businesses have made this adjustment well, the struggle of adaptability is definitely a burden placed on employees who have to done a 2.0 hat. But then again, Man is the most adaptable of all species on the planet! "